In Memory of Classmates
Robert Johnson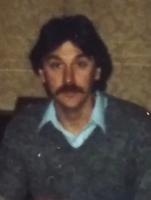 Robert Bradley Johnson
July 4, 1952 - August 18, 2019
Exeter, NH - Bob Johnson left us early Sunday morning, August 18th. Honoring his wishes, he passed in the comfort of his home supported by his wife and sister.

Bob loved living in New Hampshire, the peacefulness and wildlife. He had a passion and an incredible aptitude for cars, boats and motorcycles. Bob and his wife always had a rescue cat in their home. He learned the love of being on the water from childhood vacations and continued that later in life boating with his wife on Lake Winnipesaukee. Bob was a devoted husband and provided his "little sister" her first car and years of mechanical support.

He was proceeded by his mother and father, Clarence and Dorothea Johnson of Lynnfield. He leaves behind his beloved wife of 42 years, Dolores (Scarparro) of Exeter; and his sister, Debra of Danvers, Mass.

A private service will be held at Alton Bay, Lake Winnipesaukee, N.H.
Donations welcome in Bob's memory to your local animal shelter or The American Cancer Society.