Donation & LHS Gift Update
LHS Gift Donation
Class Gift Donation
On Friday, September 17, 2021 Committee members Andrea Bosco Bingham, Joy Rossborough Doyle, Alan Foulds, Mark Sisson and a photographer from the Lynnfield Villager newspaper met at Lynnfield High School to present our Class Gift Donation. For most of us, this was the first time back at LHS since graduation. The entry area has been renovated and it looks great. We were greeted by the Principal Bob Cleary (LHS 79) and Vice Principal Brian Bates. We entered the auditorium and met with Doug Hodgkins, Choral Director and student Sumaedha Konduri. We all gathered around the Auditorium Light Board (funded by our classmate donations) which was up and running and the technology was very impressive. Sumaedha gave a terrific demonstration of the Light Board.
Following the demonstration we went outside to take a photo with the Big Check (created by Alan Foulds) which totaled $6,800 for the Light Board purchase.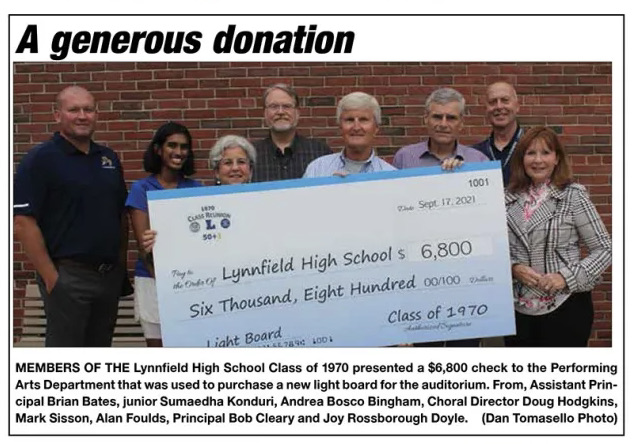 Never Too Late to Make A Donation
There have been some inquiries whether it is too late to make a Class Donation. The simple answer - Donations are still welcomed. On September 17th, we provided the new Light Board to LHS, however, there may be "unplanned" future expenses either for the Reunion or the continuation of the Reunion Website. If we do have some Donation funds remaining, we can use them to keep the website going beyond 2022 and/or provide some funds to LHS. During our Class Gift presentation at LHS, they did mention that the Light Board technology would be further enhanced with some improved overhead lighting fixtures.
Any amount is welcomed and Donations can be made by referring to the Class Donation Process tab on the website.
The LHS 50+2 Reunion Committee Thanks You for Your Generosity