Lynnfield

High School




Class of 1970
Announcements
127 Classmates Joined the Website
63,000+ Website Visits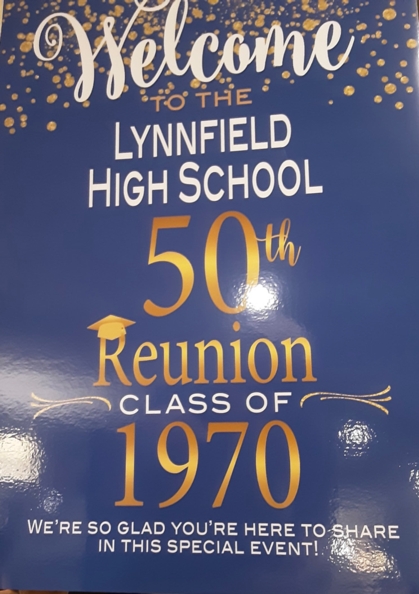 The long awaited 50+2 reunion is now in the history books. We want to thank everyone who attended our Reunion events. Judging by your comments, pictures and actions, safe to say a fun time was had by all.
We have posted all submitted photos from our Reunion events. For those who took pictures and want to share them, you can follow the instructions on the Photo Galleries tab or use the Contact Us tab to get some assistance.
It was great to see everyone laughing, sharing stories and reconnecting. The Lynnfield/LHS Bus Tour was memorable to say the least. The Meet & Greet seemed like we never missed a beat after all these years. The Saturday Dinner & Dancing proved beyond a shadow of a doubt that 70 year olds can party like rock stars. The photo booth and dancing were a big hit.
Rumor has it there was an after after hours party that lasted until 1:30 AM. WOW!!!
ANNOUNCEMENTS
•

Enjoy the Holiday Season and have a Happy New Year....

Once again, we find ourselves completing another year and looking forward to a healthy and prosperous 2024. Our Website will continue to remain active throughout 2024. When you have a chance, consider sharing your Holiday Season photos with our classmates. Sharing photos on the Website is fun and easy to do, just follow the instructions on the Photo Galleries tab or attach them to your Classmate Profile tab.

Happy Holidays

•

Photos submitted by Chris Bean .....

Special thanks to Chris Bean who took some great Reunion photos on Saturday night. We will try to provide captions and names over the next few days.

•

Special thanks to John Wrobel....

We have posted pictures from the Friday night Reunion Meet & Greet. Want to let everyone know that classmate John Wrobel took these pictures so we could load them on the Website.

Thanks John

•

The reunion was great. My wife and I had a good time and seeing old friends was precious. The planning committee did an excellent job. Let's do it again before we get too decrepit!!!

John Schofield

•

To all who attended the reunion events—it was great to see you. I think we have aged pretty well these last 52 years

To those who were unable to come—you were missed and hope you are well.

Martha Langill