Coach Rodan's Memories
*COACH RODAN'S FOUR TOP MEMORIES OF GARY "BUCKETS" MILLEN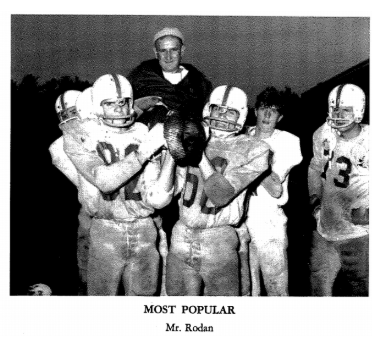 Gary's senior year was Coach R.'s first year as Head Coach of Lynnfield High School Football.
We won that first game against Westwood with 17 seconds left in the game when Kevin Moran dashed away on a 94 yard TD run. "Buckets" cleaned out the final defender, also wiping out Coach Rodan, who was racing down the sideline…racing being a relative term, as I don't recall Coach R. winning too many sprints during my years at LHS. Point of this story being, "NEVER GIVE UP", became our team mantra for the balance of 1970, and continues to be so to this day.
When Gary first began coaching high school football, Coach R. was also still coaching at LHS. They had a ritual of calling one another every Saturday evening, rehashing each other's games.
Gary would ask Coach R., "What was the biggest play calling decision you had to make today?"
Coach R. remembers many of these conversations as going something like this…
Coach R. would say, "It was 4th down, and rather than punt, we threw a screen pass, and picked up the 1st down." Gary would immediately say, "Now that was a dumb play to call in that situation." "Today, my guys were faced with a 4th down, and we faked a run up the middle and my QB stepped back and tossed a TD pass on a crossing pattern, to win the game." Coach R. theorizes that they were both guilty of exaggerating, or perhaps, even lying at times.
Coach Rodan sums it up this way, "Gary and I NEVER agreed on anything, until, of course, John Lynch was running for Governor of New Hampshire." "Buckets was so damn conservative, but we were both rooting for 'Lynchie'."
At one point in Gary's coaching career, Coach R. remembers sharing with him Walt Whitman's "Leaves of Grass" collection of poems…primary purpose being to underscore Whitman's theme of "the student evolves and becomes even greater than was his/her teacher".
Final thought…Coach R. wanted me to share what he and I were doing on the eve of Gary Millen's passing…I was on the West Coast and Coach R. was in New Hampshire. He called me to share the sad news of the passing of our mutual pal, "Buckets
We spoke for many, many minutes. Hung up. Cried. I called him back. We cried some more, eventually we were able to find some solitude, and said, "Good Night". About a half hour later, my phone rang again, and it was Coach R. This call lasted another half hour, or so, and was rich with tears and laughter as we relived "Buckets" Tales. Once again, we said, "Good Night". And I'd be lying if I failed to confess that about an hour later, I called Coach R. back…one final time that evening, probably after having one too many Heinekens, and together we paid our final salute (for that night, anyway) to Gary Millen.
*As conveyed by Coach Rodan to Bob Preble