April 2021 Newsletter
April 2021 Newsletter
Greetings from the Reunion Committee
Our September Reunion is less than 5 months away! Vaccinations for our age group should be completed and relaxed CDC guidelines continue to be encouraging.
This months Newsletter contains a variety of topics including a reminder to complete the Reunion Attendance Survey, Class Gift and Donation Drive update, a request for "current" classmate Website photos and a Key Events Timeline recap.
We continue to meet monthly to plan and organize our 50+1 Reunion in September. Thought it might be fun to show a Then and Now group photo.
Then
Now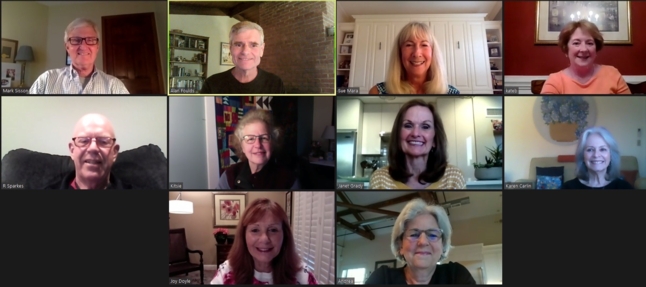 Reminder - Reunion Attendance Survey
Reunion activities and venue details are summarized on the Save The Dates page on the website. We recently launched a five question survey to gain an initial sense for classmate Reunion attendance. Thank you to all who have completed the survey and if you have not, please take a few minutes to complete it (Reunion Attendance Survey on the website). A link to the Website is provided below;
https://www.lhs-1970-50th.com/
To date, we have 41 replies representing about 33% of Website registered classmates with 76% responding Yes to attending. Our goal is to have 75% of website registered classmates complete the survey prior to May 11th, if not sooner.
Class Gift & Donation Drive Update
Previous Newsletters announced the Class Gift & Donation Drive. Thanks so much for those who have contributed. The Class Donation Process on the website provides a quick and easy way to Donate. Use the link below to access our Website to make a Donation.
https://www.lhs-1970-50th.com/
Several of you have asked for a progress report on Donations. The chart below provides the specific goals, progress and balance needed;
The $6,800 Class Gift goal is the amount needed to purchase the New Technology Light Board for the LHS Auditorium and the $1,700 is the amount needed to fund the Website Operating Expense. As you can see, we are making progress, yet there is still a way to go. As a reference point, the Class of 69 raised over $9,500.
Updated Website Profile Photos
The Reunion Committee would like to have everyone update a current picture of themselves on their Website profile. We thought it would be fun to share how we look 50 years later and it would make our recognition that much easier when we all get together that first day. The Then (yearbook photo) and Now (Zoom screen shot taken by Alan Foulds of our Reunion Committee) is a great example of what we are looking for. We can help guide you through the process of uploading if need be (grandkids are also great for that). Hope to see you soon. Thanks to all who have already uploaded — we are looking good.
Key Dates To Keep In Mind
Now - May 11th: Complete the Reunion Attendance Survey
Now - August 30th: Submit Donations for Class Gift & Website operating expense
Now - August 30th: Book rooms at the Four Points by Sheraton. Refer to Hotel Blocks website page for details. Strongly encourage everyone to make reservations early.
June 14 - Sept 3rd: Reunion Event Registration available on the website
Friday, Sept 17th: LHS Tour, Meet & Greet at Four Points by Sheraton
Sat., Sept 18th: Four Points by Sheraton Main Event
Stay healthy, stay positive, September is not that far away.

LHS 50+1 Reunion Committee