June Newsletter - Registration
Event Registration Begins June 14, 2021
LHS 1970 Classmates,
Our 50+1 Reunion is just three months away. We will publish our event registration process beginning June 14, 2021 and ending September 10, 2021. Details regarding our Friday & Saturday events are listed on the Website under the tab Reunion Event Information. We sincerely hope you can attend both events, Friday's LHS/Trip Down Memory Lane bus tour followed by the Meet & Greet will be causal and our Main Event on Saturday a little more "dressy". Just as a little tease, the Trip Down Memory Lane/LHS Bus Tour is provided below. Special thanks to Alan Foulds and Joy Rossborough Doyle for organizing this.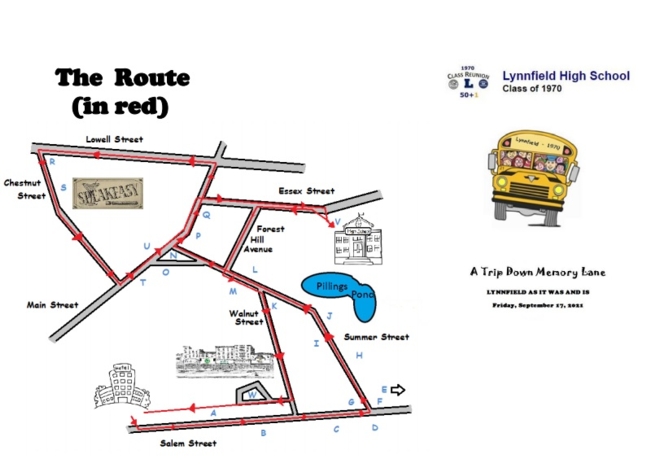 Event Fees:
Friday LHS/Memory Lane Tour: $10.00 for bus tour payable upon boarding the bus
Friday Meet & Greet: $35.00 per person
Saturday Dinner & Dancing: $70.00 per person
Fees can be paid through the Website with a credit card or by personal check sent to:
Karen Better Carlin, 4 Harborview Rd., Hull, MA 02045
Cancellations:
If by chance a cancellation occurs, fees paid by personal check will be 100% refundable, however, credit card refund payments will be slightly less as there is a Website credit card processing fee of 5.9% which is not refundable. Cancellations will not be refundable after September 10, 2021.
Next Steps:
We encourage everyone to register for events as soon as possible. That will allow us to track headcount and keep the Four Points by Sheraton up to date. Use the following Website tabs to register;
Register: Friday Tour, Meet & Greet

Register: Saturday Dinner & Dancing
The link to our Website is provided below;
https://www.lhs-1970-50th.com/
Massachusetts Covid Update:
Great news, everything in Massachusetts is open at full capacity including Fenway and Boston Garden. Only transportation and hospitals are still mandating masks.
Lastly, to all who have made a Class Gift Donation - thank you. If you have not, please consider doing so. We still have a way to go to meet our Class Gift objective and fund our Website operating costs. Any amount is welcomed! We will keep you updated on our progress.
Respectfully,
The LHS 50+1 Reunion Committee