December 2021 Newsletter
December 2021 Newsletter
Hard to believe we are closing out another year. Despite the ongoing pandemic and the challenges created for everyone, we approach 2022 with optimism and hope for a rewarding and healthy year for all classmates and their families.
In this Newsletter, you will find a Season Greetings from the Reunion Committee, an update on securing Hotel rooms for the September Reunion, a request to share some special moments in our lives with our classmates, an opportunity to share Grand kid and Holiday Season photos and a reminder that Donations are still welcomed.
Seasons Greetings & Happy New Year from the 50+2 Reunion Committee
Looking forward to seeing everyone in September 2022!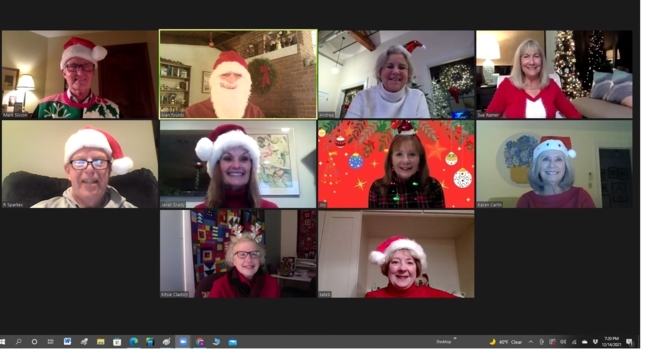 Top: Mark Sisson, Alan "Santa" Foulds, Andrea Bosco Bingham & Sue Perkins Ramer
Middle: Bob Sparkes, Janet Silva Grady, Joy Rossborough Doyle & Karen Better Carlin
Bottom: Kitsie Eckert Claxton & Kate Power Benedetto
Hotel Update
Updated hotel information for the LHS Class of 1970 50+2 Reunion can found under Hotel Information Update on the website. You can also find the information on our customized online reservation link below;
Book your group rate for Lynnfield High School 50th Reunion Class of 1970
Special Moments Request Reminder
In our September Newsletter, we mentioned that classmate Bob Preble experienced a once in a lifetime adventure back in 2003, when he was involved with a mountaineering expedition up Mt Rainer in Washington state, elevation 14,400+ feet.
It is likely other classmates have experienced unique, life changing or "Bucket List" adventures they might like to share on this Website. We can collect and share these experiences in future Newsletters. If interested, please submit a email description of your experience and include photos if available. Don't be shy, we all would like to hear these adventures or plans. Below are a few thought starters that might help get the process going;
What was the most fun adventure that you have reason to share ?
What have you experienced that you are most proud of and willing to inspire others with?
What is still on your Bucket List to tackle in the days, weeks and the years ahead?
Submit your emails and photos to:
Grand Kids and Holiday Photos
You may recall we solicited Holiday Season photos last year. Those photos can still be found under the Photo Galleries website tab. We thought it might be fun to request similar photos for this Holiday Season and/or submit photos of the proud grandparents and their grand children.
If you are interested, you can post your grand kid or Holiday Season photo's on your Profile page or create a gallery or add to a gallery by following the instructions under the Photo Galleries website tab. Or, if you wish, we can create a new gallery. All you have to do is send your photos along with a brief description (example; who, what, where and when) to:
Donations Update
There have been some inquiries whether it is too late to make a Class Donation. The simple answer - Donations are still welcomed. On September 17th, we provided the new Light Board to LHS, however, there may be "unplanned" future expenses either for the Reunion or the continuation of the Reunion Website. If we do have some Donation funds remaining, we can use them to keep the website going beyond 2022 and/or provide some funds to LHS. During our Class Gift presentation at LHS, they did mention that the Light Board technology would be further enhanced with some improved overhead lighting fixtures.
Any amount is welcomed and Donations can be made by referring to the Class Donation Process tab on the website.
Enjoy the Holidays and Happy New Year,
The LHS 50+2 Reunion Committee